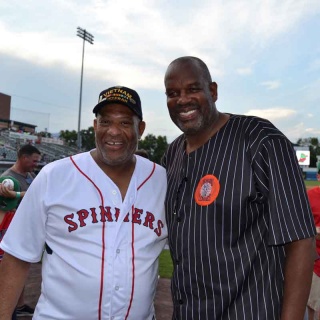 Hanscom AFB, MA (August 9, 2019) – Hanscom Federal Credit Union named veteran Will Hatley as its second Heroes Among Us honoree of 2019. Hatley was honored on Thursday, August 8 at LeLacheur Park in Lowell, MA, where the Lowell Spinners took on the Vermont Lake Monsters on a beautiful August evening. Hatley was able to meet with the players, throw the first pitch of the game, enjoy a summertime meal from Home Plate BBQ, and watch the Spinners play from a private suite with friends and family.
Hatley served for many years as a boatswain's mate in the Navy, but upon leaving the military found the adjustment to civilian life to be very difficult. In learning from those struggles he found his new passion and has dedicated his life to helping other veterans working through that adjustment.
He works with the U.S. Department of Veterans Affairs as part of the Compensated Work Therapy (CWT) program, and helps veterans transition to civilian life by obtaining housing, jobs or job training, and services for veterans with physical and mental health differences. Having been in their shoes, he understands the challenges they are facing and can connect to them on a deep level. Will coordinates with over 70 federal, state, and local resources to get Massachusetts' veterans the financial, legal, physical, and emotional support they need.
Will also partners with Veterans Legal Services to provide free legal services for over 250 veterans each year and develops a monthly Financial Round Table that puts over 250 veterans per month in contact with financial advisors, career and education experts, tax professionals, and others. His work has allowed veterans to gain peace of mind about their shift to civilian life.
"Will is well known by the team at our Bedford branch, and it's clear how much they appreciate what he does for his community," said Ray Phillips, Hanscom FCU's Chairman of the Board. "He is clearly a Hero Among Us not only because of his own service to our country, but through his continued service and dedication to those going through unique struggles that he has already overcome. We're proud to have him as a member of both the credit union, but more importantly, our community."